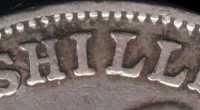 Lance has already given a brief mention to the Public Editor's column in today's News and Observer, but there's a story inside the story that may be worth your while.
First, though, kudos to Ted Vaden for actually looking into this question. I've written him about a handful of bias issues and I fully expected him to blow this one off too. So I was surprised to learn last week that he was actually looking into the story - and I appreciate his effort.
The column itself is surprisingly candid. Vaden takes N&O reporters to task for their over-reliance on John Locke Foundation propaganda, all the while admiring the right wing thing tank for its marketing prowess.
John Hood, the foundation's ever-quotable president, makes no apologies for that and indeed, says one reason for his organization's creation "was to ensure that the public policy discussion includes these conservative views." But he says media manipulation is not part of the plan.

"If your goal is just to get the conservative message out, that will not be effective," he said. "What I try to encourage my staff to do is to provide usefulness and value to journalists seeking to provide balance in coverage of public policy issues."
Media manipulation is not part of the plan? That's rich - and more than a little ridiculous. Media manipulation is the entire plan. Why else would the Puppetmaster be spending millions of dollars each year to drive his propaganda machine? Why else would the creation of every John Locke Foundation "report" start with its foregone conclusions and then find data and evidence to back those conclusions up?
Ted Vaden got one thing dead right. The John Locke Foundation is an opinion manufacturer that is itself a story.
Which raises this question: Why is the right wing think tank such a huge deal in Raleigh, when it's virtually irrelevant at the News and Observer's sister paper in Charlotte? This is a big chunk of the story that Mr. Vaden neglected. And you can see why.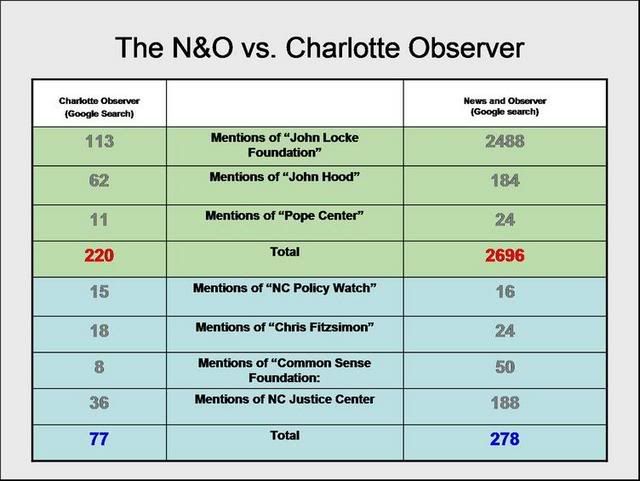 In case it's not entirely clear, what's playing out here in North Carolina is just a microcosm of the national disgrace that is the mainstream media. Big Media - like Big Oil, Big Pharma, Big Corn, Big Bulldozers and Big War - are just another cog in the corporatization of democracy. And because right wing interests are so closely aligned with Big Business interests, you can always count on them having undue influence.
That's what we're up against. And it ain't pretty. In fact, Ted Vaden's opening paragraph nails the problem nicely.
Is the N&O a shill for the right wing? That criticism would surprise a lot of our readers, but it's one being made lately by some folks who see excessive attention to the conservative John Locke Foundation in the pages of The News & Observer. Emphasis added.
The editors at the N&O often say that they get plenty of criticism from right-wing Neanderthals who argue loudly that the paper is nothing but a liberal mouthpiece for that scumbag Bill Clinton. (Yes, they still drag out old Bill.) That's how bad things have gotten. What used to be the political "middle" has slid so far to the right that some people actually consider the N&O to be too liberal. And I can't decide whether to laugh or cry.