It's hard these days to keep up with all the crooks and liars in politics. But keep up we must, even when it can seem overwhelming. Many of us are focused on 2006 Congressional races, especially here in North Carolina where we have an excellent chance to oust two ethically challenged Republicans, Charles Taylor and Robin Hayes. Our progressive grassroots community swarmed in full force during the May primaries and we are poised to make November 7 a day to remember.

But the threat to democracy of these two corrupt Congressmen pales in comparison to the illegal activities of the man who would be king here of the Old North State, Mr. Art Pope. I know that sounds like hyperbole, but I assure you, it is not. Over the next week, I am going to make the sobering case that a quiet coup is underway in North Carolina. Based on filings submitted to the State Board of Elections, you will learn that:
1. Art Pope created a 527 organization called the Republican Legislative Majority (RLM)of North Carolina, Inc.
2. That the activities of RLM have been funded by channeling money from Art Pope's business, Variety Wholesalers.
3. That RLM engaged in illegal electioneering during North Carolina's May primaries, pouring more than $600,000 into three legislative races, subverting both the letter and the intention of state and federal law.
4. That RLM illegally coordinated its activities with Republican candidates in those primary races.
5. That the May primaries were a pilot program Art Pope used to refine his illegal electioneering model.
6. That members of the State Board of Elections are dragging their feet in responding to formal complaints filed by Richard Morgan (one of the people Pope's corporate money helped defeat in the May primaries).
7. That Art Pope has mobilized his empire in a full-court press to defend his illegal actions.
For those of you who might prefer a simpler version of the story, it is this: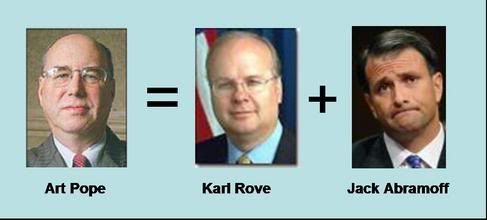 Art Pope is contaminating North Carolina politics with the sleaze and corruption of corporate money, just as is the national Republican Party. He seeks to polarize the legislature and the electorate, destroy common ground, punish those who reach across the aisle, and subvert the will of the people.
But here's the great irony. If Art Pope were doing all this with his own personal money, we'd have no basis to complain. His personal intervention in North Carolina races would be legal. The problem, though, is that Art Pope is the poor cousin of the Pope family and doesn't really have that kind of money. The Pope family money is all tied up in his daddy's foundation and in his retail businesses. But that hasn't stopped Art. He's redirecting foundation money and corporate profits to build his empire – and will apparently stop at nothing to get his way. He's already spending $200,000 a month of daddy's money (that we know of) to promote his free-market fantasies, and now he's hell-bent on buying the legislature, too.
There is so much wrong with this picture that it's hard to know where to start. Over the next week, I'll be laying out the gory details. In the meantime, here's the first and most important thing you can do. Contact the North Carolina State Board of Elections and encourage them to schedule hearing on the complaint currently before them (attached below).
Mailing Address: PO Box 27255, Raleigh, NC 27611-7255
Main Number: (919) 733-7173
E-Mail: Elections & Voting - elections.sboe@ncmail.net

Board Members:

Larry Leake (D) 828-253-3661
Lorraine Shinn (R) 252-758-6534
Charles Winfree (R) 236-273-8998
Genevieve Sims (D) 919-834-7775
Robert Cordle (D) 704-444-3500
Until the SBOE takes action to dismiss or hold hearings, the illegal influence of corporate money hangs like a sword over the head of North Carolina's democracy. But please be nice when you contact them. The SBOE is a volunteer board that is caught between a rock and a hard place. They're stretched thin and have huge pressures from the Pope machine to dismiss the complaint.
* * * * *
The essence of Art Pope's defense is that his corporate money wasn't used to influence a particular legislative race. He freely admits he used corporate money, but argues that is was "issue" advocacy and was not part of a concerted effort to affect any particular candidate.
That's not how it looks to me (see attached mailer for a slightly better view. Sorry for the poor quality):