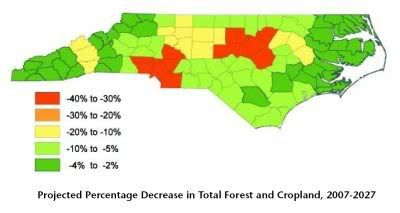 Environment North Carolina just released a report showing that the Triangle will lose 37% of its natural areas, the Charlotte area will lose 30% of its natural areas by 2027 unless legislative action is taken. Developed area is increasing faster that the increase in population.
According to a Press Release:
If current development rates continue, North Carolina will lose at least two million acres more of forests and farmlands over the next twenty years, according to a new Environment North Carolina report. Environment North Carolina, lawmakers, and Land for Tomorrow urged the General Assembly Wednesday to approve bills H 990 and S 1522 to help stem the projected loss of open spaces in the state.
The full report can be found online: Losing Our Natural Heritage: Development and Open Space Loss in North Carolina
North Carolina's signature woodlands, farmlands, and open spaces are disappearing at an alarming rate. If these trends continue, the state's treasured natural areas will disappear as vast tracts of land are developed into urban areas in the next twenty years.

This report examines development rates in North Carolina over the last twenty years, and uses those results to make conservative predictions about loss of cropland and forestland over the next twenty years. Among the reports findings:

Between 2007 and 2027:

* North Carolina will lose another two million acres of forest land and cropland.
* The Triangle will lose 37 percent of its natural areas; cropland will disappear altogether.
* The Charlotte area will lose 30 percent of is natural areas, including nearly a quarter of its forest land, the highest rate of forest loss in the state.
* Developed area in the state will increase by 38 percent, compared to a 30 percent increase in population.
This morning Wade Rawlins writes in the Raleigh News and Observer:
Eight years ago, trees grew on a 145-acre swath of land in northern Wake County off Capital Boulevard. Now, 1.3 million square feet of shops and department stores known as Triangle Town Center occupy the spot.

The transformation of a Piedmont pine forest to an asphalt-and-concrete shopping mall illustrates the kind of rapid development unfurling across the Triangle and North Carolina. What used to be farms and woodlands have become subdivisions. Shopping centers. Roads. Schools.
I remember well when Triangle Towne Center was being developed. There was a mad rush for approvals before a new stream buffer rule took effect. Two blue line streams that ran across the property were buried underground in pipes. Now the only evidence of water on the site is an artificial river at the mall.
Crossposted at WakeUP Wake County Forum