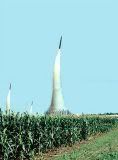 Okay, so there was little real interest in the 100C idea at the "official" level. Which, let's face it, is not surprising. It's time for us to figure out what we can and cannot do here at BlueNC or through whatever "alternate" ego we establish.
I'd like to make something perfectly clear here. I like collaboration. I dig collaboration. And, I know that leadership in collaboration means not always being in charge, not always getting your way, and not getting credit. I HAVE NO PROBLEM WITH THAT. If I could find a job doing just that, I would. Finding collaborative grants, convincing everyone to participate, spearheading their writing, getting funded, then moving on to another one. I love this stuff. So, I'm going to kick things off here with the full understanding that this will grow into whatever y'all want it to be. I'll play whatever role I can and no more. With that, some random thoughts below the break.
In no particular order:

So, where do we go from here? Do we build this behind the scenes at BlueNC? Do we take up a new CivicSpace webpage? Can we get a CRM system up and running for us to keep track of what we should each be doing?
Do we want to do this?
If you are interested in taking a leadership role on this project, go to this link and join the 100C group (Subscribe link in top left corner), which will be involved with the nuts and bolts. If you just want to hear about the progress, then just stay tuned to the front-page.