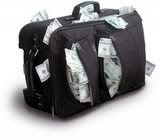 My friends are sick of me talking and writing about the lottery. And when one of my fellow front-pagers recently won a thousand bucks on a $20 ticket, I confess to thinking, "awwww, maybe it's not so terrible." But the truth is, the lottery IS so terrible, as Steve Ford, the editorial page editor at the N&O wrote today.
To pirate a line from "All the King's Men," North Carolina's state lottery was conceived in sin and born of corruption. We may never learn all the gory details surrounding its passage, but to say that its supporters in the General Assembly finagled it through by hook and by crook pretty much conveys the spirit of the thing.

They had to go to such lengths because of strenuous opposition from those who saw the lottery, despite the bounty it stands to generate in support of educational programs, as a betrayal of the principles of fair taxation and fair dealing with the citizenry.

This editorial page was in that corner. While we have agreed with Governor Easley more often than not, and while we have admired his commitment to boosting education, we thought the lottery was not a good way to raise the necessary money.

Now, the lottery has been in operation for close to two years. There's one pesky challenge in the courts that claims its passage was illegitimate (this has to do with whether the lottery should be regarded as a tax and thus should have been put through some additional legislative hoops). But it's hard to envision a scenario under which the lottery would be dismantled and abandoned, even if that wouldn't be such a bad idea.
Wouldn't be such a bad idea?
Go read the editorial and you'll get the litany of reasons the North Carolina Education Lottery is terrible public policy. Or if you want the PG-13 version, you can read some of these posts. And when you're done, ask yourself this:
If an editorial writer, and supposedly the editorial board, believe the lottery is wrong, why not take a stand and call for its repeal?
The best spin that can be put on editorials like this is to call them "pragmatic." That's the kind of moral relativism, for example, that we increasingly see from the corporate media and corporate politicians alike. Stepping away from what's clearly right, they convince themselves that nothing can be done about trains that have already left the station, and so they climb on board, fully complicit in making sure that nothing will be done, abandoning the power of their convictions and their soap boxes again and again and again.
I don't expect a lot in the way of bold leadership from corporate politicians. We have so many Democrats behaving like so many Republicans that it's hard to know who's who, especially with our Senate insisting on tax cuts for the wealthiest and huge taxpayer incentives for big companies. Many are like herding animals, afraid to take stands that might separated them from the pack.
But, frankly, I once had higher hopes for the corporate media. What do they have to lose by taking a clear position on something they believe? Instead of accepting the inevitability of state-sponsored gambling, Mr. Ford could just have easily called for an end to the North Carolina Education Lottery.
That would have been a principled stand.
UPDATE: A regular reader reminded me by email that I neglected to mention those in North Carolina who are continuing to fight against the lottery, primarily through legal means. Indeed, it was the NC Institute for Constitutional Law (Bob Orr's previous employer) and the NC Justice Center who originally filed suit on the constitutionality of the lottery. That decision is still pending at the Court of Appeals. While I don't have much confidence that the Court will strike down the lottery, I appreciate their persistence and I should not have overlooked their contribution to the cause. No slight intended.