Welcome to BlueNC Women on Wednesday or WoW. Posts will go up in about an hour or so. Here is an open thread.
For all you designers out there I have a proposal. We want some type of banner to introduce our posts. We could have a large banner for the initial open thread and a thinner banner to use for each post that is a part of WoW - much like the "breaking" or "exclusive" banners that we sometimes use.
We can gather all submissions and vote on them. If we have too many good submissions we might just alternate and use them all.
Join me below the fold where I have a wee bit of fun at Robin Hayes' expense........
Now, why do I pick on poor ickle Robin Hayes? What has he ever done to me, right? He isn't even my rep. Maybe I should cut him some slack.
Naaaah.....
We don't have time or space today for me to detail the many transgressions of Robin Hayes. He's a weak-kneed, spineless, privileged bully and I won't rest until he's working full time at that "textile" mill he owns.
I've been playing around with some software. This is fun. Click to enlarge.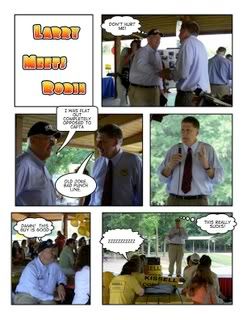 Temporarily updated with fancy new banner by A.