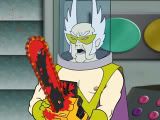 "
According to Bubba and Damn Yankee, netizens of the always reliable Internets in Kinston, Art Pope, Puppetmaster-in-Chief of All Things Conservative, is filing charges against fellow Republican Steven LaRoque for defamation of character.

As you may recall, Mr. LaRoque had the gumption to critcize the Puppetmaster for bankrolling a direct mail campaign that helped Willie Ray Starling win the Republican primary for the House seat representing Kinston. Mr. Starling, a frequent lurker at BlueNC, appears to be an honest, god-fearing Theocrat who believes the good lord (or maybe the Puppetmaster) should call all the shots when it comes to North Carolina politics.

To my knowledge, Mr. LaRoque accused the Puppetmaster of being, well, the Puppetmaster, which naturally evokes "truth" as a defense. I am not worried about Mr. LaRoque on that count. But I also suspect that the Puppetmaster is upset because Mr. LaRoque questionned his integrity. That is, Mr. LaRoque doesn't believe Mr. Pope's story that he spent several thousands of dollars on "educational" mailings without intending to influence the outcome of the Republican primary. Imagine that.

I don't know what the Puppetmaster's motives are in this alleged suit - or even if it has actually been filed. If it is in play, however, I'm guessing he's trying to send a strong signal to political opponents that he will do anything and spend anything to suppress criticism and avoid being seen as a pariah in his own party and in the state. People really do seem to be afraid of the Puppetmaster.

Are you?